We have the cabinet guys coming back tomorrow to install the panels on the refrigerator and the dishwasher, the cabinet hardware and hopefully put up the other bookcase that's been sitting in the middle of my dining room for a couple of weeks now. We are still waiting on the refrigerator hardware to come in and I need to get up to the tile store this week to pick out what I want for my back splash.
I actually cooked my first meal in the new oven, Stuffed Chicken Parmesan!! It was YUMMY! Desert was chocolate cake that Nate and the kids made on Saturday. It felt so good to sit down at our table and eat as a family, not out at a restaurant somewhere.
So I bought these bar stools at a bare wood store this weekend (2 more are on there way from another store) that are a replica of
THIS
chair from Pottery Barn but WAY cheaper, and I can't decide if I want to paint them black or another color. What do you think?
I think I'm going to get a little bench to put under the desk area with a matching cushion from the fabrics that I will use on the window seats. A chair just seems out of place there, don't you think?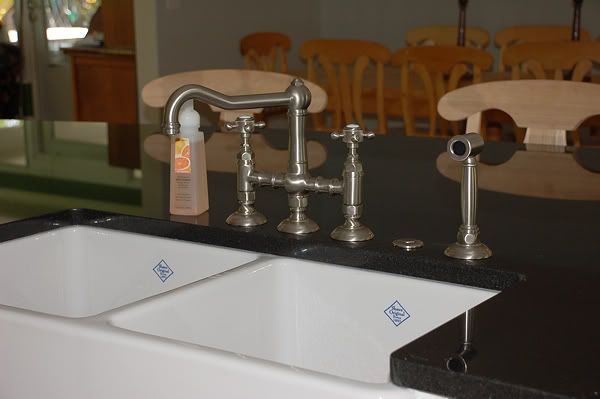 Here is a picture of my newly configured living room. Next summer, our plan is to push this room out about 10 feet, add a pool, a playroom for the kids and a master bathroom (as our master bath is the size of a hall closet right now!) We'll see where the economy is before taking the plunge, as we will have to do a lot of reconfiguring with the roof line, which is very costly.