All last week, Mallory couldn't stop talking about getting her ears pierced. I thought it was because a girl at camp had them pierced. But no, it was because she spent one afternoon in my mom's jewelry box admiring all of her pretty earrings!! I kept telling her how bad it hurt and the possibility of them getting infected, etc. She didn't care, she wanted them pierced!! So off we went to the mall... She was grinning so big, sitting up in the chair, picking out her earrings and listening to the lady tell her about taking care of her ears.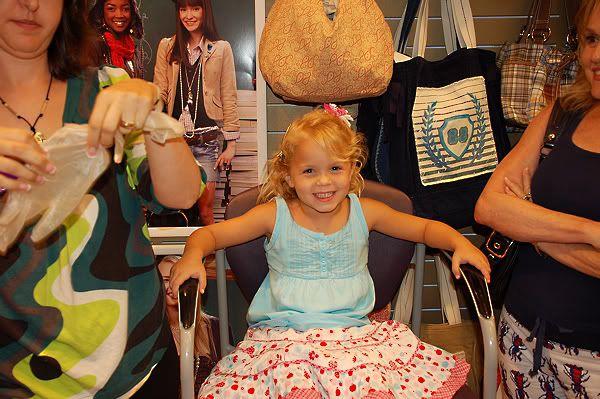 Me, I was hiding behind my camera, as I knew what was coming.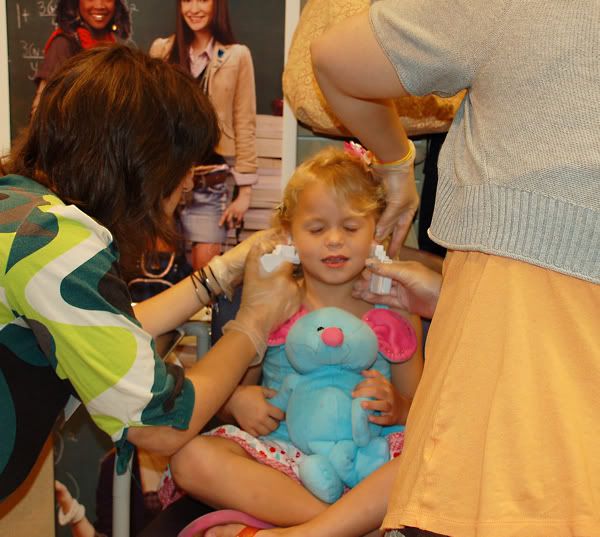 I have to say, she was so brave!! All we heard was a few "Ouchie's" and a few tears were shed (by her and me!). Her grin did disappear very quickly though, and it was replaced by a terribly mad face. She wasn't mad at me or the ear piercing lady, I think she wasn't expecting it to hurt as bad as it did. My mom went with us and asked her what it felt like. "It felt like they were driving screws in my ears, Gammy!" LOL
She looks
SO
grown up to me now... Here is a shot from our beach pictures this morning. We were practicing getting up for school, as kindergarten starts on Tuesday, so we didn't have anything better to do at 8:00 this morning!