Everyday about 4:30 or so, I go through each room in our house to see what needs to be picked up before Daddy gets home from work. The kids rooms were generally clean today, as they decided to DESTROY the living room by cutting up envelopes in to snowflakes and try to glue the pieces back together. There were a million little flakes on the floor and table and lots of glue everywhere too!! I was fine with it, as it kept them entertained while it rained and it was easily cleaned up with the vacuum and some Windex.
When I went back in to each kid's bedroom to put away their laundry, I was shocked to see these:
This was in Mallory's. Notice how all the big ponies match the little ponies, and I love how Barbie is on the big horse and naked Ken is on the little horse, lol.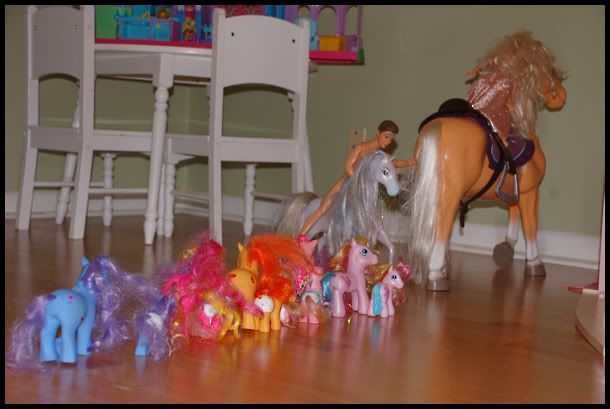 This was in Jack's. A perfect circle of his "men" getting ready to hurt the one in the middle with their swords and sticks.
I also wanted to share a super cute website for all of us Mom's out there. We have a little boutique that sells these shirts, and I think all Mom's should have at least one of them! I have the "Lucky Mom 24/7" in cranberry!
Check it out
here
!