Sorry I didn't have anything planned for last week while we were gone, we were lucky to just get out the door on time for the airport!!
I would LOVE for more of you to just leave a comment or link up to this fun idea! The giveaway this month is a great one, a $40 value you're sure to love! Don't be shy, you don't have to include pictures!! Click
HERE
for the giveaway details!
Since we are going to the
Florida State Fair
tonight and eating delicious corn dogs, here is the recipe for what we had last night! It was dreary, rainy, windy weather last night, so I opted for White Chicken Chili. This is a cheater recipe, as some nights, I just want EASY, and this is EASY!!!
White Chicken Chili
1 lb chicken breast cut into 1/2 inch cubes
1 pkg McCormick White Chicken Chili Seasoning Mix
1 tbsp oil
1 cup water
2 cans(15 to 16 oz) White Beans, undrained
1 can Diced Tomatoes
2 cups shredded cheese
Assorted toppings: sliced avocado, chopped cilantro or sour cream
There is one ingredient that I left out of the picture, Hunt's Diced Tomatoes!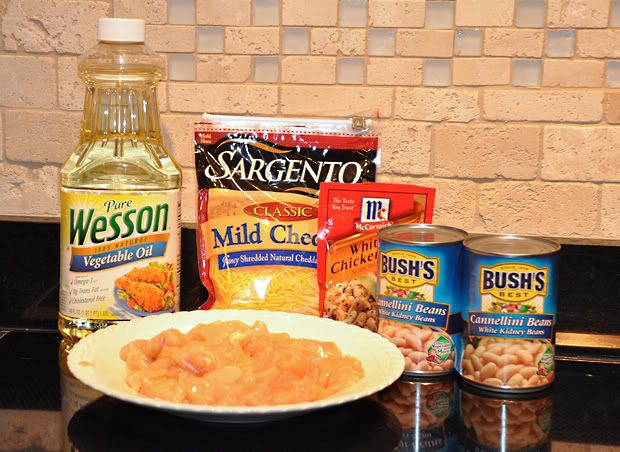 My plan was to cook this all day in the crockpot, but I was gone all morning and forgot to put everything together before I left. If you do remember to do this, you don't have to cook the chicken first, just dump everything together and cook on low for 8 hours.
The other option is to cook the chicken in a skillet for 3 to 5 minutes or until no longer pink, then put it all in the crockpot for 1-2 hours on high. I add the cheese about 45 minutes before serving to really thicken it up, as I like my chili thick!!
Before Cheese: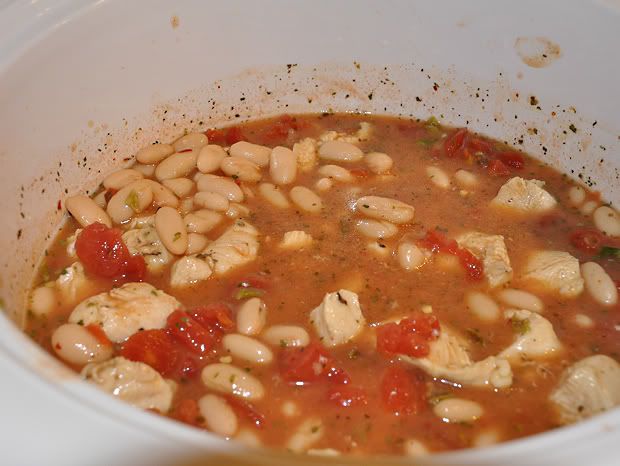 After cheese:
Enjoy!