Because he couldn't fit it on his sleigh, Santa dropped off this off to us!! We are all loving it (including all the neighborhood kids!)
Today, we had some friends over to make these adorable pretzel wreaths that I found
HERE
. For those of you in the Tampa area, ring shaped pretzels can be found at ALDI! We went through 2 big bags of pretzels and about 5 bags of Hershey kisses! Can you guess what I had for dinner :-)
To make these wreaths, you will need:
a cookie sheet lined with wax paper
1 bag of ring shaped pretzels (if you can't find them, you can use small twist ones)
your favorite flavor of Hershey Kisses - we used Hugs, dark chocolate, caramel, and almond!
1 bag of Holiday M&M's
Preheat your oven to 175 degrees
Place the pretzels on the wax paper lined cookie sheet
Unwrap the Hershey Kisses and place them inside the pretzels
Put the cookie sheet in the oven for 2-3 minutes
Once out of the oven, immediately put 1 M&M in the center of the Kiss and press down slightly.
After you fill them all up with M&M's, place the cookie sheet in the refrigerator for about 30 minutes to cool.
Beware, you may eat mass amounts of these without realizing it!!
They are perfect to give to your neighbors and teachers!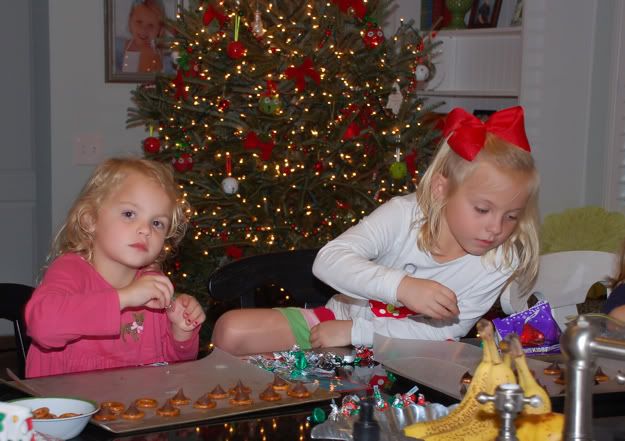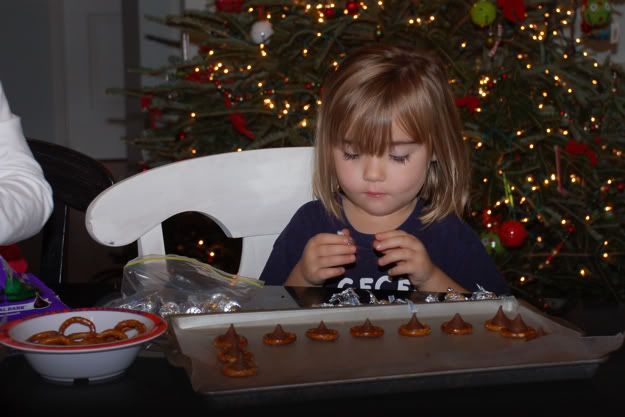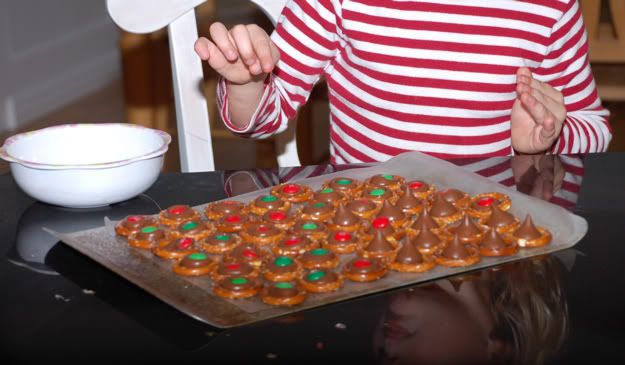 We are headed out to the Happiest Place on Earth tomorrow after lunch to attend
Mickey's Very Merry Christmas Party
! I hope the weather cooperates for us!! It's supposed to cold (for us Floridians!!), but hopefully not raining!
**Also, on a side note, I got my new camera yesterday and didn't even take it out of the box, returned it today and ordered the D90! It should be here next week, just in time for the kids to be off of school to be my little test models :-)