This is the last week to enter the contest for the free gift, a $40 value! All you need to do is leave a comment with your recipe or if you are a blogger, link up to it using MckLinky! Details of the contest can be found
HERE
.
Tonight's dinner is Stuffed Peppers!!
Servings 4 (I only made 2 servings, as my picky eaters won't eat these!)
Prep Time: 30 min
Cook Time: 20 min
Ingredients:
4 medium sized Bell Peppers (I used orange tonight, but if you are on a tight budget, the green ones are tasty too! Remember, when you are buying these, break the stems off before you bag them, you are paying by the pound, and the stems are useless!!)
1 1/4 lb ground beef
2 cans Stewed Tomatoes
1 can (11.5 oz)V-8 juice
1/2 cup uncooked rice
1 cup shredded cheese of your choice, I like to use a Mexican blend
Salt & Pepper to taste
1. Cut the stems and de-seed the peppers. To shorten the cooking time in the oven, I like to boil them for about 10-15 minutes in a pot of shallow water to kind of soften them.
2. Cook the rice according to the instructions on the box.
3. Brown the ground beef then add the cooked rice to the pan. I like to add the cheese now too, so it melts a little. Salt and pepper the mixture to your taste.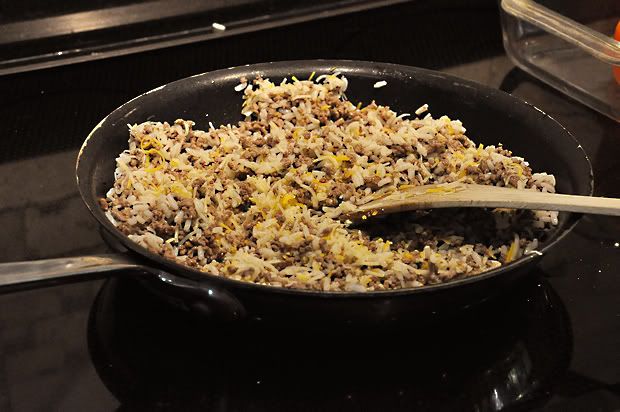 4. Place the peppers in a baking dish with the hole side up.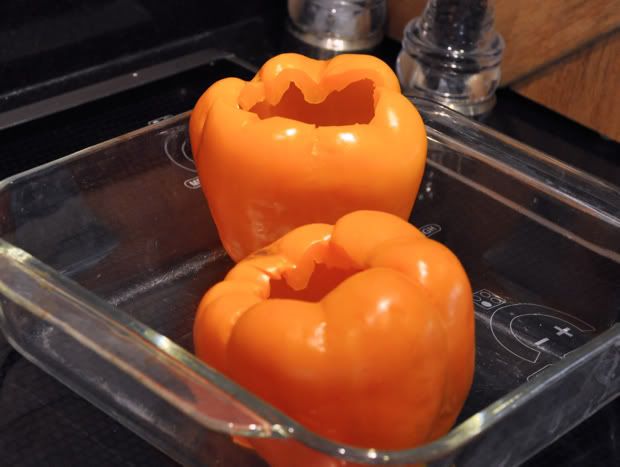 5. Fill the peppers with the meat and rice mixture, leaving a little room at the top for the stewed tomatoes and V-8 juice.
6. Pour 1/4 of the can of V-8 juice in each pepper, then the stewed tomatoes on top of that. If there is left over stewed tomatoes, just pour them in the bottom of the pan of extra sauce;-).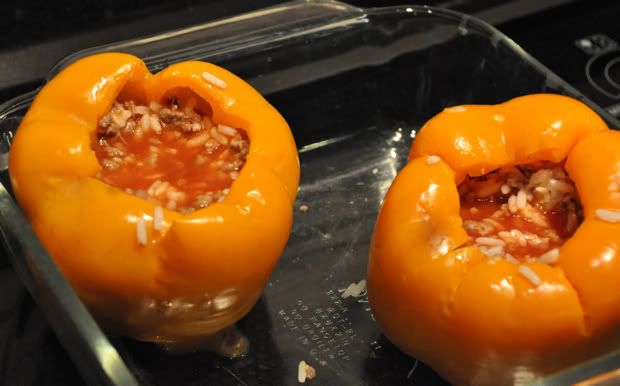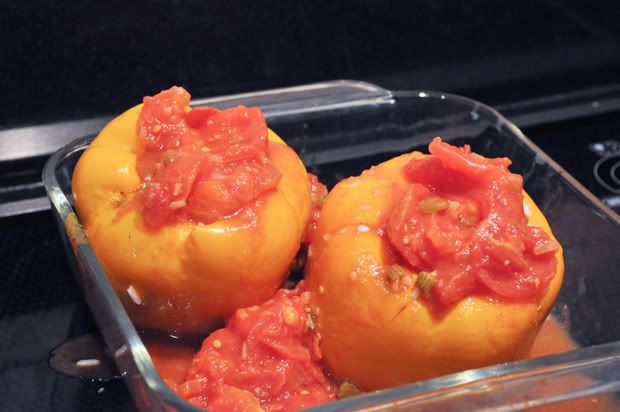 7. Place in a 350* oven for about 20 minutes.
We like to eat the Stuffed Peppers by themselves, but they would be good with mashed potatoes too!
Enjoy!!
We are also linking up to Today's Creative Blog!!