It's only been six days since I was able to use anything in my kitchen and I've cried two of those days!! The combination of Nate cutting his hand, my car having to go back to the dealership AGAIN for the same problem it was there for LAST WEEK, our washing machine breaking AGAIN after someone was out to fix it LAST WEEK, Mallory having an ear infection, and just having to get used to walking out the front door and opening the garage door 45 times a day just to get something out of the refrigerator has put me over the edge a few times!! The good news is, the kitchen will be making a lot of progress this week. The walls from the old kitchen will be coming down tomorrow and the new wall will be going up. The electrician is coming on Monday to start all the new wiring and moving some of the switches. The air conditioning company will be creating a new vent for the hood and a new air return.
This is our new wall, to keep all the dust on the other side with the construction. Yes, that's Jack passed out on the couch after a long morning at the beach!
Here is the wall without the mirror. That built-in shelf is connected to my sewing room, so I will have to relocate a few things when they take that out.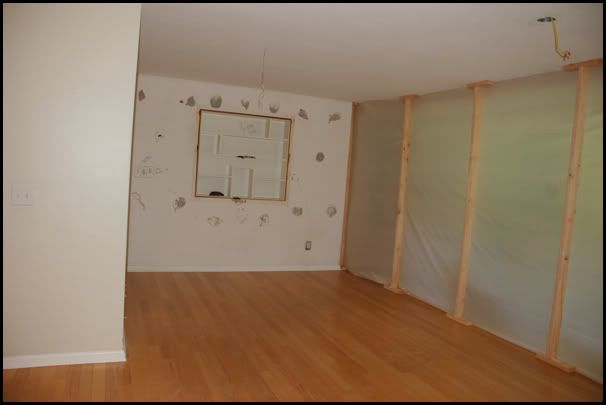 No more cabinets!