So, I've been cutting Jack's hair since he was about 1. It has been harder and harder to cut his hair these past couple of times, so I decided it was time for him to go to the salon and have my hairdresser do it. I let it grow out a little, so she would be able to cut it the way that I wanted it.
Here he is right before we walked in. He is smiling only because I promised a trip to the toy store afterward if he is a good boy.
We walked all the way to the back to the chairs that have tv's in front of them. We finally found a channel that he would watch and she started cutting.
In order to get the back, she had to prop him up on some towels. He wasn't too sure about sitting on the towels, so we had to add 3 at a time (since 3 is his favorite number and how old he is).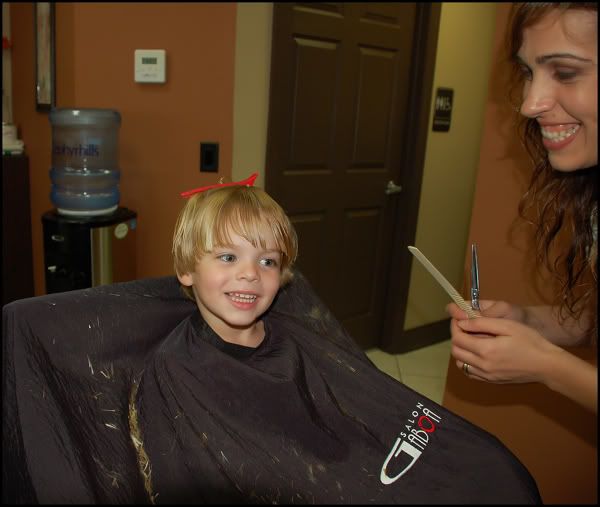 Jack did wonderful and earned his trip to the toy store!! The hairdresser, in my opinion, didn't earn a trip to the toy store. Jack's hair is very straight and so hard to get it to blend. I thought I didn't do a good job, but apparently I did!! This will probably be his only trip to the salon for a few more years, until I'm ready for him to get a big boy haircut!