We had a wonderful Thanksgiving weekend! Thursday morning, Mallory and I went with a few friends to walk in our local Turkey Trot. We only did the 1-mile race this year, as Mallory wasn't riding in a stroller! She did great! Jack had a real bad cold, so he stayed home with Nate and made Pumpkin Cheesecake! We had dinner at my parents house with all of our relatives, even my aunt came in from Jacksonville. Friday, I got up at 5:15 and headed out with three other girlfriends to hit the big sales. By 3:00, we could not fit one more item in my SUV, so we headed home. I think we got some really good deals on things, especially some winter clothes for the kids. Saturday, we went and picked out our Christmas tree. Every year, I am always disappointed with our tree, as it looks good in the lot, but when we get it home, it looks so skinny and short. Well, we got the BEST tree this year! It's so fat, it can't even fit in the corner where we always put our tree. It has 1500 lights on it too!! Sunday, we went to a little birthday party for one of Jack's friends, then went to church for a little service, followed by pizza, desert, crafts & Santa!!
Here are some pictures of the kids singing in the Thanksgiving program at school.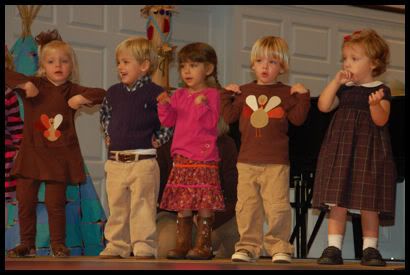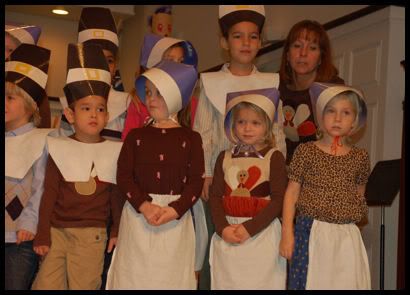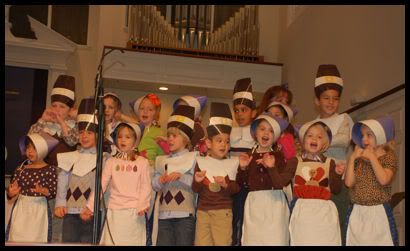 Here they are telling Santa what they want for Christmas.
Mallory wants a pink kitty Webkinz.
Jack wants a knight castle and a Jeep like our neighbor Katie has.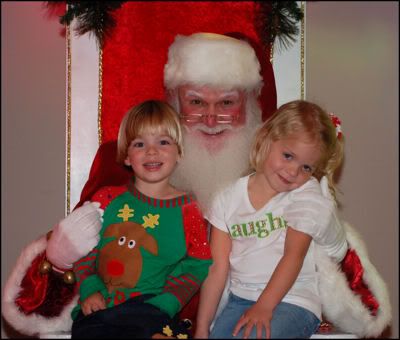 Here is a sneak peek of a set that we will be listing on eBay towards the end of the week :-) Just waiting on some bows to arrive.