One of our sweetest buyers just listed a resell of ours from last Spring.
Size 5T, 2-pc set includes knit hoodie top & denim appliqued pants. So cute for a trip to the zoo!
You can find the listing
here
. Be sure to always search
Boutique MK
to find our listings and our resells!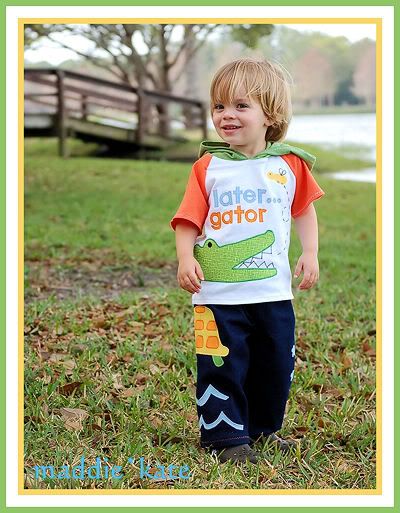 Our local Publix Supermarkets had their Holiday Open House tonight, so my mom and I took my kids and my niece and nephew to see what they were offering. We had our share of apple pie, tiramisu, apples with yogurt dip, peppermint ice cream, chocolate covered pretzels and lots of yummy things to drink! There were Christmas carollers and stomp dancers and over in one corner, we spotted Santa Claus!! The kids were so shy to go up and talk to him, they were both hiding behind my legs. I wanted to get a reaction out of them, so I said, "Tell Santa how
BAD
you've been this year!" They both came from behind my legs and said, "No, no! We've been good!" I got a good laugh out of that. Maybe now they realize that Santa is around and watching them, so they better be good, for goodness sakes!