Mallory had a birthday party for a little friend in her class on Sunday that Nathan took her to, as Jack had a birthday party to attend at the same time that I took him to.
When she walked in the door, this is what she looked like.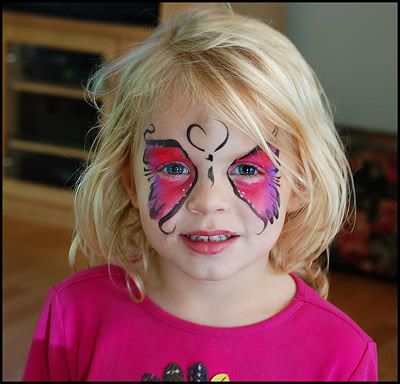 She said, "Mommy, I'm a papillon. That's French for BUTTERFLY!" How does she know this, you might ask? Well, either she is a 4-year old genius, or she has been reading Fancy Nancy and the Posh Puppy too much. I think she's a genius.
I spent the morning at the Dollar Tree with 4 other preschool board members buying all the presents for the kids to go "shopping" in a few weeks. We send a form home with the kids for their parents to fill out who the kids will need to buy presents for (mom, dad, siblings, pets, grandparents, etc.) and one day in December, we take them to a room at the school with their list in hand, and they do their Christmas shopping! It's so cute to watch them pick out special presents. There are 75 kids in the school, so we have to buy a TON of things. Today, we bought 360 items. That poor cashier!!